About Saylor Academy
Saylor Academy's mission is to open education to all.
Saylor Academy is a nonprofit initiative working since 2008 to offer free and open online courses to all who want to learn.
We offer nearly 100 full-length courses at the college and professional levels, each of which is available right now — at your pace, on your schedule, and free of cost.
Whether you are looking for career advancement, degree completion, professional development, or more casual learning, we have something just for you. At Saylor Academy, you can earn modern, digital certificates of completion; earn tuition-free college credit through our network of partner schools; or even start a low-cost, convenient degree program.
I never thought I would get a chance for education at a level like this, and it's very very true Saylor is a saviour. Now I am taking career related courses before others. Thanks millions to Saylor Academy.

Rineta, Solomon Islandsread more
Spread the word
We hear it all the time: "Why don't more people know about you!?" We like to think that we're one of the better-kept secrets in online learning, but that doesn't mean we hope to stay that way!
You can help! The best way, of course, is to join Saylor Academy as a student — explore, learn, pursue, and help us to build a robust, engaged, worldwide community of learners. But you can also help by telling a friend — or many — about Saylor Academy. Word of mouth is hugely important; you make a real difference for us with each person you tell and, quite possibly, a real difference for that person, too.
We are different
If you have taken open online courses before (you might know them as "MOOCs"), you will find that we do things a bit differently.
Our learning materials are curated from a trove of free and open online resources by expert educators (learn more about our course design philosophy). We focus on designing a self-paced learning experience that comes as close as possible to what you would learn in the college classroom. Our certificates are free, our courses are available to you any time, and the deadlines are under your control.
Find Out More
We encourage you to explore our site to find out more of what Saylor Academy has to offer, but here are some highlights you might find helpful:
Memberships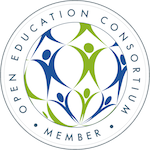 Saylor Academy is an organizational member of the Open Education Consortium, a non-profit, global network supporting the advancement of open education. Find out more at
http://www.oeconsortium.org
Saylor Academy is a
partner institution
in the OERu network. Coordinated by the OER Foundation, the OERu network of institutions offers free online courses and affordable pathways to academic credit for students around the world. Find out more at
https://oeru.org
Saylor Academy is a
co-sponsor
of Connecting Credentials. Managed by the Corporation for a Skilled Workforce, with support from the Lumina Foundation, Connecting Credentials supports stakeholders in the movement to improve credentialing in the United States. Find out more at
https://connectingcredentials.org
Stay in the Know
Sign up for updates by email — we don't like spam, either, and we won't bombard your inbox! You can unsubscribe any time.